Aquaculture Products
Acute Phase Protein ELISA Kits
We are pleased to offer ELISA kits for the measurement of acute-phase proteins and heat shock proteins in rainbow trout/salmon and shrimp. In-house studies have demonstrated that serum levels of acute-phase proteins increase significantly in trout and salmon during bacterial infections. Assays for tilapia hemopexin and haptoglobin are in development.
ELISA

Instructions
Cat. #
Price
Shrimp HSP40
Insert
HSP40-24
$550
Trout C1q-LP3*
Insert
C1Q-23
$550
Trout Cathelicidin*
Insert
CATH-23
$550
Trout CFHL-1*
Insert
CFHL1-23
$550
Trout GDF-15*
Insert
GDF15-23
$550
Trout HSP70*
Insert
HSP70-23
$550
Trout Haptoglobin*
Insert
HAPT-23
$550
Trout Vitellogenin*
Insert
VTG-23
$550
*Kits recognize rainbow trout and Atlantic salmon biomarkers.
Muscle Biomarkers
In 2018, it was estimated that 70% (2.3 million tons) of salmon sold worldwide were farmed. A similar percentage of rainbow trout is also raised in aquaculture. Loss of fish due to disease cause significant economic impact. However, tools to monitor fish health, and mitigate losses, are lacking. In collaboration with a group of academic and industry scientists, sponsored by the Scottish Aquaculture Innovation Centre (SAIC), we participated in a project to identify biomarkers and develop assays that could be used for the detection of salmon with cardiomyopathy syndrome (CMS) and other diseases. Estimated losses due to CMS cost the salmon industry  €145 million per year. As part of a second SAIC-sponsored project, we are field-testing a rapid assay for salmon cardiac troponin-C to determine its use for monitoring CMS outbreaks. We are also evaluating several acute phase protein assays for the asessment of viral and bacterial infections in salmon and trout.
At present, we offer two ELISA kits for research use. One for the detection of salmon cardiac troponin-C (CTNC), the other for salmon skeletal muscle troponin-C (STNC). CTNC is expressed in cardiac and slow-twitch skeletal muscle. STNC is expressed in fast-twitch skeletal muscle. Diseases that cause muscle damage release troponin-C into the serum. As shown below, serum levels of both CTNC and STNC increase in fish with pancreatic disease.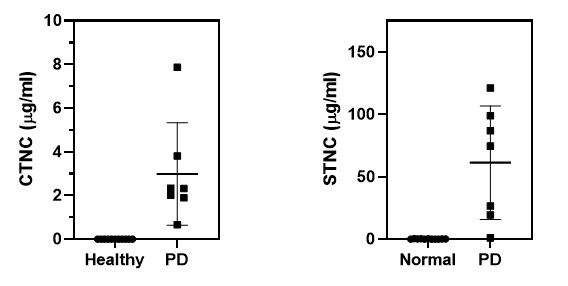 ELISA

Instructions
Cat. #
Price
Salmon Cardiac Troponin-C*
Insert
CTNC-19
$500
Salmon Skeletal Muscle Troponin-C*
Insert
STNC-19
$500
*The kits recognize Atlantic salmon and rainbow trout troponin-C
Immunoglobulin ELISA Kits and Secondary Antibodies
We now manufacture an ELISA kit for measurement of IgM in rainbow trout and salmon serum. It uses an antibody that recognizes the IgM heavy chain. In salmon, it has been reported that total IgM levels increase during bacterial infection. We also offer two monoclonals, developed at Life Diagnostics, that recognize trout and salmon IgM heavy chain.
ELISA

Instructions
Cat. #
Price
Trout IgM*
Insert
IGM-23
$550
*The kit recognizes Atlantic salmon and rainbow trout IgM heavy chain. It uses IGM-23-2E7 for capture and detection.
Antibody

Information
Cat. #
Price/mg
Trout IgM*
Info
IGM-23-2E7
$1500
Trout IgM*
Info
IGM-23-12B9
$1200
*Recognizes Atlantic salmon and rainbow trout IgM heavy chain
Orders may be placed by phone, fax, email, or via our online shop.
For technical advice please email us at [email protected]. All kits are manufactured by Life Diagnostics, Inc.